Jamie Lian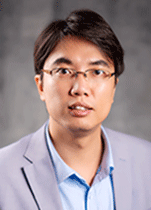 Pacific Northwest National Laboratory
PO Box 999
Richland, WA 99352
Send Email
Biography
Jianming (Jamie) Lian received the B.S. degree with the highest honor from University of Science and Technology of China in 2004. After that, he received the M.S. and the Ph.D. degree in Electrical Engineering from Purdue University, West Lafayette, IN, in 2007 and 2009, respectively. From 2010 to 2011, he worked as a postdoctoral research associate at Center for Advanced Power Systems in Florida State University, Tallahassee, FL, where he was involved in various projects related to the development of future all-electric ship supported by ONR. He is currently a staff engineer in the Advanced Controls group at Pacific Northwest National Laboratory (PNNL). His research interests mainly focus on the application of distributed optimization and control to large-scale complex systems. At PNNL, he has been serving as a project manager, PI/Co-PI and key technical contributor for many research projects in the areas of power grid, building system, and transportation system. In particular, he has been extensively working on the development of the theoretical foundation for the new market-based framework to engage and integrate various distributed energy resources (DERs) into the future distribution management system. He has published more than 45 peer-reviewed journal and conference papers, one book chapter and many technical reports, and has also filed 4 patents.
PNNL Patents
U.S. Patent No. 10,651,652, May 12, 2020, "FREQUENCY THRESHOLD DETERMINATION FOR FREQUENCY-RESPONSIVE LOAD CONTROLLERS".
U.S. Patent No. 10,607,303, March 31, 2020, "COORDINATION OF THERMOSTATICALLY CONTROLLED LOADS WITH UNKNOWN PARAMETERS".
U.S. Patent No. 10,210,568, February 19, 2019, "COORDINATION OF THERMOSTATICALLY CONTROLLED LOADS WITH UNKNOWN PARAMETERS".
Research Interests
Main research interests lie in the interdisciplinary area of autonomous system, distributed control, distributed optimization, microeconomics and game theory. The current focus is to apply these interdisciplinary principles to practical applications including

Residential/Industrial/Commercial demand response
Market-based (transactive) coordination and control
Power system stability analysis and real-time control
Power electronics and energy conversion
Connected and automated vehicles
Education and Credentials
Ph.D. in Electrical Engineering, Purdue University, West Lafayette, IN USA - 2009
M.S. in Electrical Engineering, Purdue University, West Lafayette, IN USA - 2007
B.S. in Electrical Engineering, University of Science and Technology of China, Hefei, Anhui China - 2004
Affiliations and Professional Service
Member, Institute of Electrical and Electronics Engineers (IEEE), 2009-present
Member, IEEE Control Systems Society, 2009-present
Member, IEEE Power & Energy Society, 2010-present
Awards and Recognitions
Outstanding Performance Award, Pacific Northwest National Laboratory, August 2014
Outstanding Performance Award, Pacific Northwest National Laboratory, March 2014
Outstanding Performance Award, Pacific Northwest National Laboratory, February 2013
Andrews Fellowship, School of Electrical and Computer Engineering, Purdue University, West Lafayette, IN, August 2004-July 2006
Guo Moruo Scholarship, University of Science and Technology of China, Hefei, Anhui China, May 2004 (Granted to the top student in each department)
PNNL Publications
2020
Fan R., S. Wang, R. Huang, J. Lian, and Z. Huang. 2020. "Wide-Area Measurement-Based Modal Decoupling for Power System Oscillation Damping." Electric Power Systems Research 178. PNNL-SA-139779. doi:10.1016/j.epsr.2019.106022
Wang D., K. Ma, P. Wang, J. Lian, and D.J. Hammerstrom. 2020. "Frequency-domain Flexibility Characterization of Heterogeneous End-use Loads for Grid Services." In IEEE Power & Energy Society Innovative Smart Grid Technologies Conference (ISGT 2020), February 17-20, 2020, Washington DC, 1-5. Piscataway, New Jersey:IEEE. PNNL-SA-147265. doi:10.1109/ISGT45199.2020.9087674
Wilches-Bernal F., R. Byrne, and J. Lian. 2020. "Damping of Inter-Area Oscillations via Modulation of Aggregated Loads." IEEE Transactions on Power Systems 35, no. 3:2024 - 2036. PNNL-SA-141496. doi:10.1109/TPWRS.2019.2948116
2019
Brambley M.R., and J. Lian. 2019. "Residential Heating System Control for Future Electric Power Grid Services Using Minimal Measurements." In ASME Intenational Mechanical Engineering Congress & Exposition (IMEC 2019), November 11-14, 2019, Salt Lake City, UT, 6, Paper No: IMECE2019-12026, V006T06A051. New York, New York:ASME. PNNL-SA-149133. doi:10.1115/IMECE2019-12026
Brambley M.R., and J. Lian. 2019. "Residential Heating System Control for Future Electric Power Grid Services Using Minimal Measurements." In ASME 2019 IMECE Intenational Mechanical Engineering Congress & Exposition. PNNL-SA-149133.
Fan R., T. Yin, R. Huang, J. Lian, and S. Wang. 2019. "Transmission Line Fault Location Using Deep Learning Techniques." In Proceedings of the 51st North American Power Symposium (NAPS 2019), October 13-15, 2019, Wichita, KS. Piscataway, New Jersey:IEEE. PNNL-SA-142687. doi:10.1109/NAPS46351.2019.9000224
Huang S., J. Lian, H. Hao, and S. Katipamula. 2019. "Transactive Control Design for Commercial Buildings to Provide Demand Response." IFAC-PapersOnLine 51, no. 34:151-156. PNNL-SA-134436. doi:10.1016/j.ifacol.2019.01.058
Lian J., T. Yang, and Y. Yuan. 2019. "Special section on Control of Complex Networked Systems (CCNS): Recent Results and Future Trends." Annual Reviews in Control 47. PNNL-SA-142256. doi:10.1016/j.arcontrol.2019.04.005
Ma K., J. Lian, P. Wang, and D.J. Hammerstrom. 2019. "Transactive Coordination of Flexible Loads with Energy Storage through Day-ahead Scheduling." In Proceedings of the IEEE Power & Energy Society General Meeting (PESGM 2019), August 4-8, 2019, Atlanta, GA. Piscataway, New Jersey:IEEE. PNNL-SA-139401. doi:10.1109/PESGM40551.2019.8973491
Ma K., P. Wang, T. Ramachandran, J. Lian, and D.J. Hammerstrom. 2019. "Optimal Iterative Method for Network Utility Maximization with Intertemporal Constraints." In 3rd IEEE Conference on Control Technology and Applications (CCTA 2019), August 19-21, 2019, Hong Kong, China, 543-548. Piscataway, New Jersey:IEEE. PNNL-SA-138370. doi:10.1109/CCTA.2019.8920423
Marinovici L.D., J. Hansen, and J. Lian. 2019. "Data-based Aggregate Model of Refrigerators for Electric Power Grid Services." In Proceedings of the IEEE Power & Energy Society General Meeting (PESGM 2019), August 4-8, 2019, Atlanta, GA. Piscataway, New Jersey:IEEE. PNNL-SA-130434. doi:10.1109/PESGM40551.2019.8973863
Wang P., B.P. Bhattarai, J. Lian, D.J. Hammerstrom, and K. Ma. 2019. "A Unified Virtual Battery Model for Responsive Assets." In Proceedings of the IEEE Power & Energy Society General Meeting (PESGM 2019), August 4-8, 2019, Atlanta, GA. Piscataway, New Jersey:IEEE. PNNL-SA-139440. doi:10.1109/PESGM40551.2019.8974107
Wang P., S. Mou, J. Lian, and W. Ren. 2019. "Solving a system of linear equations: From centralized to distributed methods." Annual Reviews in Control 47. PNNL-SA-141094. doi:10.1016/j.arcontrol.2019.04.008
2018
Fan R., M.A. Elizondo, H. Kirkham, J. Lian, F. Wilches-Bernal, and D. Schoenwald. 2018. "Oscillation Damping Control Using Multiple High Voltage DC Transmission Lines: Controllability Exploration." In IEEE/PES Transmission and Distribution Conference and Exposition (T&D 2018), April 16-19, 2018, Denver, Co, 1-9. Piscataway, New Jersey:IEEE. PNNL-SA-128302. doi:10.1109/TDC.2018.8440281
Hao H., D. Wu, J. Lian, and T. Yang. 2018. "Optimal Coordination of Building Loads and Energy Storage for Power Grid and End User Services." IEEE Transactions on Smart Grid 9, no. 5:4335-4345. PNNL-SA-118868. doi:10.1109/TSG.2017.2655083
Kundu S., J. Hansen, J. Lian, and K. Kalsi. 2018. "Assessment of Optimal Flexibility in Ensemble of Frequency Responsive Loads." In IEEE International Conference on Smart Grid Communications, October 23-27, 2017, Dresden, Germany, 399-404. Piscataway, New Jersey:IEEE. PNNL-SA-126289. doi:10.1109/SmartGridComm.2017.8340742
Lian J., H. Ren, Y. Sun, and D.J. Hammerstrom. 2018. "Performance Evaluation for Transactive Energy Systems using Double-Auction Market." IEEE Transactions on Power Systems 34, no. 5:4128 - 4137. PNNL-SA-128928. doi:10.1109/TPWRS.2018.2875919
Lian J., Q. Zhang, L.D. Marinovici, R. Fan, and J. Hansen. 2018. "Wide-area Demand-side Control for Inter-area Oscillation Mitigation in Power Systems." In IEEE/PES Transmission and Distribution Conference and Exposition (T&D 2018), April 16-19 2018, Denver, CO, 1-5. Piscataway, New Jersey:IEEE. PNNL-SA-128554. doi:10.1109/TDC.2018.8440257
Lian J., W. Zhang, Y. Sun, L.D. Marinovici, K. Kalsi, and S.E. Widergren. 2018. Transactive Systemart I: Theoretical Underpinnings of Payoff Functions, Control Decisions, Information Privacy, and Solution Concepts. PNNL-27235 Part 1. Richland, WA: Pacific Northwest National Laboratory. doi:10.2172/1422302.Transactive Systemart I: Theoretical Underpinnings of Payoff Functions, Control Decisions, Information Privacy, and Solution Concepts
Lian J., Y. Tang, J.C. Fuller, K. Kalsi, and N. Wang. 2018. "Behind-the-meter Transctive Control Approach for Home Energy Management System." In IEEE Power & Energy Society General Meeting (PESGM 2018), August 5-10, 2018, Portland, OR, 1-5. Piscataway, New Jersey:IEEE. PNNL-SA-130957. doi:10.1109/PESGM.2018.8585855
Nandanoori S., S. Kundu, D.L. Vrabie, K. Kalsi, and J. Lian. 2018. "Prioritized Threshold Allocation for Distributed Frequency Response." In 2018 IEEE Conference on Control Technology and Applications (CCTA), 237-244. PNNL-SA-132273. doi:10.1109/CCTA.2018.8511411
Nudell T.R., A.M. Annaswamy, J. Lian, K. Kalsi, and D. D'Achiardi. 2018. "Electricity Markets in the United States: A Brief History, Current Operations, and Trends." In Smart Grid Control: Opportunities and Research Challenges, edited by Stoustrup J., Annaswamy A., Chakrabortty A., Qu Z. pp. 3-27. PNNL-SA-127149. doi:10.1007/978-3-319-98310-3_1
Ramachandran T., K. Dvijotham, K. Kalsi, and J. Lian. 2018. "Integration of Retail and Wholesale Markets: Modeling Framework and Stability Analysis." In 2018 IEEE Power & Energy Society General Meeting (PESGM). PNNL-SA-130537. doi:10.1109/PESGM.2018.8585854
Wang P., Y. Gao, N. Yu, W. Ren, J. Lian, and D. Wu. 2018. "Communication-efficient Distributed Solutions to a System of Linear Equations with Laplacian Sparse Structure." In 2018 IEEE Conference on Decision and Control (CDC), 3367-3372. Piscataway, New Jersey:IEEE. PNNL-SA-133154. doi:10.1109/CDC.2018.8619387
2017
Chen H., W. Zhang, J. Lian, and A. Conejo. 2017. "Robust Distributed Volt/VAR Control of Power Distribution Systems." In IEEE 56th Annual Conference on Decision and Control (CDC 2017), December 12-15, 2017, Melbourne, Australia, 6321-6326. Piscataway, New Jersey:IEEE. PNNL-SA-124711. doi:10.1109/CDC.2017.8264612
Li W., J. Lian, D.W. Engel, and H. Wang. 2017. "Ensemble-Based Uncertainty Quantification for Coordination and Control of Thermostatically Controlled Loads." Journal of Control and Decision 5, no. 2:148-168. PNNL-SA-123683. doi:10.1080/23307706.2017.1353931
Lian J., D. Wu, K. Kalsi, and H. Chen. 2017. "Theoretical Framework for Integrating Distributed Energy Resources into Distribution Systems." In IEEE Power & Energy Society General Meeting, July 16-20, 2017, Chicago, Illinois, 1-5. Piscataway, New Jersey:IEEE. PNNL-SA-122233. doi:10.1109/PESGM.2017.8274331
Lian J., S. Wang, M.A. Elizondo, J. Hansen, D. Schoenwald, R. Huang, and R. Fan, et al. 2017. Universal Wide-area Damping Control for Mitigating Inter-area Oscillations in Power Systems. PNNL-27351. Richland, WA: Pacific Northwest National Laboratory. Universal Wide-area Damping Control for Mitigating Inter-area Oscillations in Power Systems
Sun Y., A.J. Stevens, J. Lian, and S. Lu. 2017. "Calibrating Physical Parameters in House Models Using Aggregate AC Power Demand." In IEEE Power & Energy General Meeting, July 16-20, 2017, Chicago, Illinois. PNNL-SA-122198. doi:10.1109/PESGM.2017.8273980
Widergren S.E., D.J. Hammerstrom, Q. Huang, K. Kalsi, J. Lian, A. Makhmalbaf, and T.E. McDermott, et al. 2017. Transactive Systems Simulation and Valuation Platform Trial Analysis. PNNL-26409. Richland, WA: Pacific Northwest National Laboratory. Transactive Systems Simulation and Valuation Platform Trial Analysis
Wu D., J. Lian, Y. Sun, T. Yang, and J. Hansen. 2017. "Hierarchical Control Framework for Integrated Coordination Between Distributed Energy Resources and Demand Response." Electric Power Systems Research 150. PNNL-SA-116222. doi:10.1016/j.epsr.2017.05.002
2016
Li S., W. Zhang, J. Lian, and K. Kalsi. 2016. "Market-Based Coordination of Thermostatically Controlled Loads-Part I: A Mechanism Design Formulation." IEEE Transactions on Power Systems 31, no. 2:1170-1178. PNNL-SA-104887. doi:10.1109/TPWRS.2015.2432057
Li S., W. Zhang, J. Lian, and K. Kalsi. 2016. "Market-Based Coordination of Thermostatically Controlled Loads-Part II: Unknown Parameters and Case Studies." IEEE Transactions on Power Systems 31, no. 2:1179-1187. PNNL-SA-104858. doi:10.1109/TPWRS.2015.2432060
Li S., W. Zhang, J. Lian, and K. Kalsi. 2016. "On Reverse Stackelberg Game and Optimal Mean Field Control for a Large Population of Thermostatically Controlled Loads." In 2016 American Control Conference, July 6-8, 2016, Boston, MA. Piscataway, New Jersey:IEEE. PNNL-SA-109052. doi:10.1109/ACC.2016.7525463
Li S., W. Zhang, L. Zhao, J. Lian, and K. Kalsi. 2016. "On Social Optima of Non-Cooperative Mean Field Games." In IEEE 55th Conference on Decision and Control (CDC 2016), December 12-14, 2016, Las Vegas, Nevada, 3584-3590. Piscataway, New Jersey:IEEE. PNNL-SA-116713. doi:10.1109/CDC.2016.7798808
Lian J., J. Hansen, L.D. Marinovici, and K. Kalsi. 2016. "Hierarchical Decentralized Control Strategy for Demand-Side Primary Frequency Response." In IEEE Power and Energy Society General Meeting (PESGM 2016), July 17-21, 2016, Boston, MA. Piscataway, New Jersey:IEEE. PNNL-SA-114374. doi:10.1109/PESGM.2016.7741267
Yang T., D. Wu, Y. Sun, and J. Lian. 2016. "Minimum-Time Consensus-Based Approach for Power System Applications." IEEE Transactions on Industrial Electronics 63, no. 2:1318-1328. PNNL-SA-107198. doi:10.1109/TIE.2015.2504050
2015
Hao H., A. Somani, J. Lian, and T.E. Carroll. 2015. "Generalized Aggregation and Coordination of Residential Loads in a Smart Community." In IEEE International Conference on Smart Grid Communications (SmartGridComm 2015), November 2-5, 2015, Miami, Florida, 67-72. Piscataway, New Jersey:IEEE. PNNL-SA-110406. doi:10.1109/SmartGridComm.2015.7436278
Hao H., J. Lian, K. Kalsi, and J. Stoustrup. 2015. "Distributed Flexibility Characterization and Resource Allocation Strategies for Multi-zone Commercial Buildings in the Smart Grid." In 54th IEEE Conference on Decision and Control, December 15-18, 2015, Osaka, Japan, 3161-3168. Piscataway, New Jersey:IEEE. PNNL-SA-109049. doi:10.1109/CDC.2015.7402693
Kalsi K., J. Hansen, J.C. Fuller, L.D. Marinovici, M.A. Elizondo, T.L. Williams, and J. Lian, et al. 2015. Loads as a Resource: Frequency Responsive Demand. PNNL-25397. Richland, WA: Pacific Northwest National Laboratory. Loads as a Resource: Frequency Responsive Demand
Kalsi K., T.L. Williams, L.D. Marinovici, M.A. Elizondo, and J. Lian. 2015. Loads as a Resource: Frequency Responsive Demand. PNNL-24906. Richland, WA: Pacific Northwest National Laboratory. Loads as a Resource: Frequency Responsive Demand
Lian J., J. Hu, and S.H. Zak. 2015. "Variable Neural Adaptive Robust Control: A Switched System Approach." IEEE Transactions on Neural Networks and Learning Systems 26, no. 5:903-915. PNNL-SA-90777. doi:10.1109/TNNLS.2014.2327853
Lian J., Y. Sun, L.D. Marinovici, and K. Kalsi. 2015. "Improved Controller Design of Grid Friendly™ Appliances for Primary Frequency Response." In IEEE Power & Energy Society General Meeting, July 26-30, 2015, Denver, Colorado, 1-5. Piscataway, New Jersey:IEEE. PNNL-SA-106860. doi:10.1109/PESGM.2015.7286424
Subbarao K., J.C. Fuller, K. Kalsi, J. Lian, and E.T. Mayhorn. 2015. Transactive Control and Coordination of Distributed Assets for Ancillary Services: Controls, Markets and Simulations. PNNL-24116. Richland, WA: Pacific Northwest National Laboratory. Transactive Control and Coordination of Distributed Assets for Ancillary Services: Controls, Markets and Simulations
Yang T., D. Wu, Y. Sun, and J. Lian. 2015. "Impacts of Time Delays on Distributed Algorithms for Economic Dispatch." In IEEE Power & Energy Society General Meeting, July 26-30, 2015, Denver, Colorado, 1-5. Piscataway, New Jersey:IEEE. PNNL-SA-106877. doi:10.1109/PESGM.2015.7286216
2014
Elizondo M.A., L.D. Marinovici, J. Lian, K. Kalsi, and P. Du. 2014. "Mitigation of Remedial Action Schemes by Decentralized Robust Governor Control." In IEEE PES T&D Conference and Exposition, April 14-17, 2014, Chicago Illinois, 1-5. Piscataway, New Jersey:IEEE. PNNL-SA-90761. doi:10.1109/TDC.2014.6863364
Kalsi K., J. Lian, L.D. Marinovici, M.A. Elizondo, W. Zhang, and C. Moya. 2014. Loads as a Resource: Frequency Responsive Demand. PNNL-23764. Richland, WA: Pacific Northwest National Laboratory. Loads as a Resource: Frequency Responsive Demand
Li S., W. Zhang, J. Lian, and K. Kalsi. 2014. "On Market-Based Coordination of Thermostatically Controlled Loads With User Preference." In IEEE 53rd Conference on Decision and Control (CDC 2014), December 15-17, 2013, Los Angeles, California, 2474-2480. Piscataway, New Jersey:IEEE. PNNL-SA-101666. doi:10.1109/CDC.2014.7039766
Moya C., W. Zhang, J. Lian, and K. Kalsi. 2014. "A Hierarchical Framework for Demand-Side Frequency Control." In American Control Conference (ACC 2014), June 4-6, 2014, Portland, Oregon, 52-57. Piscataway, New Jersey:IEEE. PNNL-SA-98607. doi:10.1109/ACC.2014.6859304
Xu Z., R. Diao, S. Lu, J. Lian, and Y. Zhang. 2014. "Modeling of Electric Water Heaters for Demand Response: A Baseline PDE Model." IEEE Transactions on Smart Grid 5, no. 5:2203-2210. PNNL-SA-95788. doi:10.1109/TSG.2014.2317149
2013
Chang C., W. Zhang, J. Lian, and K. Kalsi. 2013. "Modeling and Control of Aggregated Air Conditioning Loads Under Realistic Conditions." In IEEE PES Innovative Smart Grid Technologies (ISGT 2013), February 24-27, 2013, Washington DC. Piscataway, New Jersey:IEEE. PNNL-SA-91055. doi:10.1109/ISGT.2013.6497895
Kalsi K., J.C. Fuller, F.K. Tuffner, J. Lian, W. Zhang, L.D. Marinovici, and A.R. Fisher, et al. 2013. Integrated Transmission and Distribution Control. PNNL-22157. Richland, WA: Pacific Northwest National Laboratory. Integrated Transmission and Distribution Control
Kalsi K., W. Zhang, J. Lian, L.D. Marinovici, C. Moya, and J.E. Dagle. 2013. Distributed Smart Grid Asset Control Strategies for Providing Ancillary Services. PNNL-22875. Richland, WA: Pacific Northwest National Laboratory. Distributed Smart Grid Asset Control Strategies for Providing Ancillary Services
Marinovici L.D., J. Lian, K. Kalsi, P. Du, and M.A. Elizondo. 2013. "Distributed Hierarchical Control Architecture for Transient Dynamics Improvement in Power Systems." IEEE Transactions on Power Systems 28, no. 3:3065-3074. PNNL-SA-88935. doi:10.1109/TPWRS.2012.2236655
Mayhorn E.T., K. Kalsi, J. Lian, and M.A. Elizondo. 2013. "Model Predictive Control-based Optimal Coordination of Distributed Energy Resources." In 46th Hawaii International Conference on System Sciences (HICSS 2013), January 7-10, 2013, Wailea, Hawaii, 2237-2244. Piscataway, New Jersey:Institute of Electrical and Electronics Engineers. PNNL-SA-88538. doi:10.1109/HICSS.2013.410
Mayhorn E.T., K. Kalsi, J. Lian, and M.A. Elizondo. 2013. "Model Predictive Control-based Optimal Coordination of Distributed Energy Resources." In 46th Hawaii International Conference on System Sciences (HICSS), January 7-10, 2013, Maui, Hawaii, edited by RH Sprague, Jr., 2237-2244. Los Alamitos, California:IEEE Computer Society. PNNL-SA-92849. doi:10.1109/HICSS.2013.410
Stevens A.J., Y. Sun, J. Lian, M.N. Devarakonda, G. Parker, and G. Parker. 2013. "Optimal SCR Control Using Data-Driven Models." In SAE 2013 World Congress & Exhibition Technical Papers, April 16, 2013, Detroit, Michigan, Paper No. 2013-01-1573. Warrendale, Pennsylvania:SAE International. PNNL-SA-91580. doi:10.4271/2013-01-1573
Zhang W., J. Lian, C. Chang, and K. Kalsi. 2013. "Aggregated Modeling and Control of Air Conditioning Loads for Demand Response." IEEE Transactions on Power Systems 28, no. 4:4655-4664. PNNL-SA-93151. doi:10.1109/TPWRS.2013.2266121
2012
Lian J., L.D. Marinovici, K. Kalsi, P. Du, and M.A. Elizondo. 2012. "Distributed Hierarchical Control of Multi-Area Power Systems with Improved Primary Frequency Regulation." In Proceedings of the IEEE 51st Annual Conference on Decision and Control (CDC), December 10-13, 2012, Maui, Hawaii, 444-449. Piscataway, New Jersey:IEEE. PNNL-SA-86253. doi:10.1109/CDC.2012.6426115
Zhang W., J. Lian, C. Chang, K. Kalsi, and Y. Sun. 2012. "Reduced-Order Modeling of Aggregated Thermostatic Loads With Demand Response." In Proceedings of the IEEE 51st Annual Conference on Decision and Control (CDC), December 10-13, 2012, Maui, Hawaii, 5592-5597. Piscataway, New Jersey:IEEE. PNNL-SA-86238. doi:10.1109/CDC.2012.6426010