Sen Huang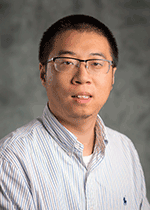 Pacific Northwest National Laboratory
PO Box 999
Richland, WA 99352
Send Email
Biography
Sen Huang joined the Pacific Northwest National Laboratory as a scientist in May 2016. Before joining PNNL, he worked as a building services engineer at Arup (2011-2012), a teaching assistant (2013) and a research assistant (2014-2016) both at the University of Miami.
Research Interests
Building Control
Building-Grid Integration
Modeling of Hybrid Systems
Whole-building Fault Detection and Diagnosis
Education and Credentials
Ph.D., Civil Engineering, University of Miami
M. Eng., Heating, Gas Supply, Ventilation and Air Conditioning Engineering, Tongji University
B. Eng., Architectural Environment and Equipment Engineering, Donghua University
Awards and Recognitions
IBPSA-USA Scholarship to attend the ASHRAE & IBPSA-USA SimBuild 2016 Conference
ASHRAE/IBPSA-USA 2014 Student Travel Scholarship
Travel Scholarship for the National Science Foundation Symposium on Building Uncertainty & Risk Analysis, 2014
The Scholarship on Merit, Donghua University (2005, 2007)
PNNL Publications
2020
Wu D., X. Ma, S. Huang, T. Fu, and P.J. Balducci. 2020. "Stochastic Optimal Sizing of Distributed Energy Resources for a Cost-effective and Resilient Microgrid." Energy 198. PNNL-SA-150028. doi:10.1016/j.energy.2020.117284
2019
Dong J., T. Ramachandran, P. Im, S. Huang, V. Chandan, D.L. Vrabie, and P.V. Kuruganti. 2019. "Online Learning for Commercial Buildings." In Proceedings of the Tenth ACM International Conference on Future Energy Systems (e-Energy 2019), June 25-28, 2019, Phoenix, AZ, 522-530. New York, New York:ACM. PNNL-SA-138212. doi:10.1145/3307772.3331029
Huang S., and D. Wu. 2019. "Validation on Aggregate Flexibility from Residential Air Conditioning Systems for Building-to-Grid Integration." Energy and Buildings 200. PNNL-SA-141726. doi:10.1016/j.enbuild.2019.07.043
Huang S., J. Lian, H. Hao, and S. Katipamula. 2019. "Transactive Control Design for Commercial Buildings to Provide Demand Response." IFAC-PapersOnLine 51, no. 34:151-156. PNNL-SA-134436. doi:10.1016/j.ifacol.2019.01.058
Wu D., N. Radhakrishnan, and S. Huang. 2019. "A Hierarchical Charging Control of Plug-in Electric Vehicles with Simple Flexibility Model." Applied Energy 253. PNNL-SA-136731. doi:10.1016/j.apenergy.2019.113490
Wu D., N. Radhakrishnan, X. Ke, S. Huang, A.P. Reiman, and K. Kalsi. 2019. Coordinated PEV Charging for Distribution System Management. PNNL-27710. Richland, WA: Pacific Northwest National Laboratory. Coordinated PEV Charging for Distribution System Management
2018
Follum J.D., Y. Sun, T. Fu, and S. Huang. 2018. "Online Verification of Transactive Control for Commercial Buildings." In IEEE Power & Energy Society General Meeting (PESGM 2018), August 5-10, 2018, Portland, OR, 1-5. Piscataway, New Jersey:IEEE. PNNL-SA-130289. doi:10.1109/PESGM.2018.8585861
Huang S., Y. Chen, P.W. Ehrlich, and D.L. Vrabie. 2018. "A Control-oriented Building Envelope and HVAC System Simulation Model for a Typical Large Office Building." In 2018 Building Performance Analysis Conference and SimBuild co-organized by ASHRAE and IBPSA-USA, September 26-28, 2018, Chicago, IL, 729-736. Atlanta, Georgia:American Society of Heating, Refrigerating and Air-Conditioning Engineers. PNNL-SA-132275.
Katipamula S., R.M. Underhill, R.G. Lutes, and S. Huang. 2018. Automatic Identification of Retro-commissioning Measures. PNNL-27338. Richland, WA: Pacific Northwest National Laboratory.
2017
Katipamula S., C.D. Corbin, J.N. Haack, H. Hao, W. Kim, D.J. Hostick, and B.A. Akyol, et al. 2017. Transactive Campus Energy Systems: Final Report. PNNL-26866. Richland, WA: Pacific Northwest National Laboratory. Transactive Campus Energy Systems: Final Report
2016
Corbin C.D., A. Makhmalbaf, S. Huang, V.V. Mendon, M. Zhao, S. Somasundaram, and G. Liu, et al. 2016. Transactive Control of Commercial Building HVAC Systems. PNNL-26083. Richland, WA: Pacific Northwest National Laboratory. Transactive Control of Commercial Building HVAC Systems
Hao H., G. Liu, S. Huang, and S. Katipamula. 2016. Coordination and Control of Flexible Building Loads for Renewable Integration; Demonstrations using VOLTTRON. PNNL-26082. Richland, WA: Pacific Northwest National Laboratory. Coordination and Control of Flexible Building Loads for Renewable Integration; Demonstrations using VOLTTRON
Selected Publications
2016
Dong He, Sen Huang, Wangda Zuo, Raymond Kaiser. A Virtual Testbed for Net Zero Energy Communities. Accepted by ASHRAE and IBPSA-USA SimBuild 2016

Sen Huang, Mats Vande Cavey, Raymond Sterling, Wangda Zuo, Lieve Helsen, Alberto Giretti, Marco Bonvini, Zheng O'Neill, Michael Wetter, Andrea Costa, Gesa Boehme, Ralf Klein, Bing Dong, Marcus M. Keane. IEA Annex 60 Activity 2.3: Model Use during Operation, Approach and Case Studies. Accepted by CLIMA 2016

Sen Huang, Wangda Zuo, Michael D. Sohn. Amelioration of the Cooling Load based Chiller Sequencing Control. Applied Energy, 168 (2016) 204–215

Sen Huang, Wangda Zuo, Michael Sohn. A Bayesian Network Model for Predicting Cooling Loads. Accepted by ASHRAE and IBPSA-USA SimBuild 2016
2015
Ana Carolina Laurini Malara, Sen Huang, Wangda Zuo, Michael D. Sohn, Nurcin Celik. Optimal Control of Chiller Plants using Bayesian Network. In Proceedings of the 14th IBPSA Conference, Hyderabad, India, December 7-9, 2015, pp. 449-455

Reymundo Miranda, Sen Huang, German Barrios, Dan Li and Wangda Zuo. Energy Efficient Design for Hotels in the Tropical Climate using Modelica. In Proceedings of the 11th International Modelica Conference, Palais, France, September 21-23, 2015, pp. 71-78

Sen Huang, Wangda Zuo, Michael Sohn. A New Method for the Optimal Chiller Sequencing Control. In Proceedings of the 14th IBPSA Conference, Hyderabad, India, December 7-9, 2015, pp. 316-323

Tiejun Li, Guifang Shao, Sen Huang, Wangda Zuo, Zheng, O'Neill, Weiren Shi. Genetic Algorithm for Building Optimization - State-of-the-art Survey. In Proceedings of the 9th International Symposium on Heating, Ventilation and Air Conditioning and the 3rd International Conference on Building Energy and Environment, Tianjin, China, July 12-15, 2015
2014
Sen Huang, Wanda Zuo. Optimization of the Water-Cooled Chiller System Operation. In Proceedings of 2014 ASHRAE/IBPSA-USA Building Simulation Conference, Atlanta, GA, United States, September 10-12, 2014, pp. 300-307