Sai Pushpak Nandanoori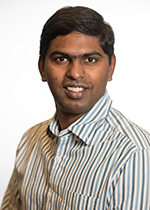 Pacific Northwest National Laboratory
PO Box 999
Richland, WA 99352
Send Email
Biography
Sai Pushpak joined Pacific Northwest National Laboratory (PNNL) in 2018. Currently, at PNNL, he is working on effective utilization and integration of Distributed Energy Resources (DERs) for normal stable operation and also to provide service during extreme events. Prior to joining PNNL, he was a research assistant at Iowa State University where he focused on understanding the effect of parametric uncertainty, communication/sensor uncertainty in networked dynamical systems and applied it to understand various problems in power systems. Most importantly, he worked on the stochastic small-signal stability of power network with uncertain wind generation. Further, he developed a sparsity promoting algorithm to achieve power-sharing among generators in a Microgrid. In 2017, he was an intern at PNNL where he worked on the demand side control to achieve frequency regulation.
Research Interests
Modeling, Stability Analysis and Control of Networked Systems,
Distributive Control and Optimization Applications,
Stochastic Small-signal Stability Analysis and Robust Control of Power Networks
Education and Credentials
Ph.D., Electrical and Computer Engineering, Iowa State University, Ames, IA, USA
M.S., Electrical Engineering, Indian Institute of Technology Madras, Chennai, TN, India, July 2012
B. Tech, Electrical and Electronics Engineering, Pondicherry Engineering College, Pondicherry, India, May 2009
Affiliations and Professional Service
Student member of IEEE Power & Energy Society, IEEE Control Systems Society
Awards and Recognitions
Reviewer for ASME Journal of Dynamic Systems, Measurements and Control,
Indian Control Conference, ASME Dynamic Systems and Control Conference,
IEEE Conference on Decision and Control
PNNL Publications
2020
Du W., Z. Chen, K.P. Schneider, R.H. Lasseter, S. Nandanoori, F.K. Tuffner, and S. Kundu. 2020. "A Comparative Study of Two Widely Used Grid-Forming Droop Controls on Microgrid Small Signal Stability." IEEE Journal of Emerging and Selected Topics in Power Electronics 8, no. 2:963 - 975. PNNL-SA-144351. doi:10.1109/JESTPE.2019.2942491
2019
Boddupalli N., A. Hasnain, S. Nandanoori, and E. Yeung. 2019. "Koopman Operators for Generalized Persistence of Excitation Conditions for Nonlinear Systems." In Proceedings of the IEEE 58th Conference on Decision and Control (CDC 2019), December 11-13, 2019, Nice, France, 8106-8111. Piscataway, New Jersey:IEEE. PNNL-SA-150021. doi:10.1109/CDC40024.2019.9029365
Kundu S., W. Du, S. Nandanoori, F.K. Tuffner, and K.P. Schneider. 2019. "Identifying Parameter Space for Robust Stability in Nonlinear Networks: A Microgrid Application." In 2019 American Control Conference, 3111-3116. PNNL-SA-139867. doi:10.23919/ACC.2019.8814324
Nandanoori S., I. Chakraborty, T. Ramachandran, and S. Kundu. 2019. "Identification and Validation of Virtual Battery Model for Heterogeneous Devices." In Proceedings of the IEEE Power & Energy Society General Meeting (PESGM 2019), August 4-8, 2019, Atlanta, GA. Piscataway, New Jersey:IEEE. PNNL-SA-139434. doi:10.1109/PESGM40551.2019.8973978
Ramachandran T., A.P. Reiman, S. Nandanoori, M.J. Rice, and S. Kundu. 2019. "Distribution System State Estimation in the Presence of High Solar Penetration." In American Controls Conference (ACC 2019), July 10-12, 2019, Philadelphia, PA, 3432-3437. Piscataway, New Jersey:IEEE. PNNL-SA-138831. doi:10.23919/ACC.2019.8814486
2018
Chakraborty I., S. Nandanoori, and S. Kundu. 2018. "Virtual Battery Parameter Identification using Transfer Learning based Stacked Autoencoder." In 17th IEEE International Conference on Machine Learning and Applications (ICMLA 2018), December 17-20, 2018, Orlando, Florida. Piscataway, New Jersey:IEEE. PNNL-SA-137721. doi:10.1109/ICMLA.2018.00206
Nandanoori S., S. Kundu, D.L. Vrabie, K. Kalsi, and J. Lian. 2018. "Prioritized Threshold Allocation for Distributed Frequency Response." In 2018 IEEE Conference on Control Technology and Applications (CCTA), 237-244. PNNL-SA-132273. doi:10.1109/CCTA.2018.8511411
Selected Publications
2018
Sai Pushpak, Amit Diwadkar, and Umesh Vaidya. Mean Square Stability Analysis and Synthesis of Stochastic Continuous-time Linear Networked Systems, to appear in IEEE transactions on Automatic Control 2018.
2014
Sai Pushpak, Arun D. Mahindrakar, and Anup Ekbote. Semistability Analysis of the Chaplygin Sleigh and Nonsmooth Mechanical Oscillator, ASME Journal of Dynamic Systems, Measurement, and Control 136.3 (2014): 034505, doi: 10.1115/1.4026653.