Saptarshi Bhattacharya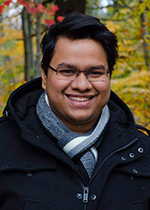 Pacific Northwest National Laboratory
PO Box 999
Richland, WA 99352
Send Email
Biography
Saptarshi Bhattacharya received his MS and PhD in Electrical Engineering from Rensselaer Polytechnic Institute in Troy, NY in 2014 and 2018 respectively. His research interests are in all aspects of optimization, control and learning techniques for cyber-physical energy systems. Specifically, he has worked on demand response algorithms for both thermal grids and power grids, coordinated charging of electric vehicles, risk management for renewable energy providers and hydro-storage optimization. During the summers of 2015 and 2016, he was a research intern at IBM Research, India, where he worked on developing demand response algorithms for district heating networks. Saptarshi joined PNNL in October 2018 and is currently a staff member in the Optimization & Control Group (OCG) under the Energy and Environment Directorate (EED). Saptarshi is a member of the IEEE and has served as a regular reviewer for several conferences (like ACC, CDC), and journals like IEEE Transactions on Smart Grid, IEEE Transactions on Sustainable Energy, IEEE Transactions on Power Systems, IEEE Transactions on Industrial Electronics and Applied Energy (Elsevier).
Research Interests
Smart Grids
Renewable Energy
Power Systems
Energy Economics
Optimization
Data-driven techniques
Education and Credentials
Ph.D., (Electrical Engineering) - Rensselaer Polytechnic Institute, Troy, NY, USA – 2018
M.S., (Electrical Engineering) - Rensselaer Polytechnic Institute, Troy, NY, USA - 2014
B. Tech, (Electrical Engineering) - West Bengal Univ. Technology, Kolkata, India - 2012
Affiliations and Professional Service
IEEE (Student Member 2013, Member 2019)
Awards and Recognitions
Best-paper (Runner up) at NETGCooP 2014, Trento, Italy.
Student Video Competition (Runner up) at IEEE SmartGridComm, Venice, Italy, 2014.
GE Global Research Student Research Summit – best prototype award – Niskayuna, NY, 2013.
PNNL Publications
2019
Bhattacharya S., D. Bhatnagar, D.C. Preziuso, M.E. Alam, and R.S. O'Neil. 2019. "Grid Value Propositions for Tidal Generation Resources - a Temporal Analysis." In OCEANS 2019 MTS/IEEE, October 27-31, 2019, Seattle, WA. Piscataway, New Jersey:IEEE. PNNL-SA-147233. doi:10.23919/OCEANS40490.2019.8962857
Preziuso D.C., R.S. O'Neil, M.E. Alam, D. Bhatnagar, S. Bhattacharya, S. Ganguli, and Y. Yu, et al. 2019. Understanding the Grid Value Proposition of Marine Energy: A Literature Review. PNNL-28839. Richland, WA: Pacific Northwest National Laboratory. Understanding the Grid Value Proposition of Marine Energy: A Literature Review