Jordan Henderson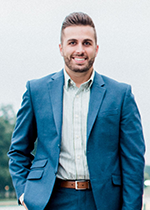 Pacific Northwest National Laboratory
PO Box 999
Richland, WA 99352
Send Email
Biography
Jordan Henderson is a Senior Engineer managing and contributing to various projects across the National Laboratory. Mr. Henderson is currently on assignment in Washington D.C. supporting the Office of Assistant Secretary of the Army for Installations, Energy & Environment (IE&E). In this role, Mr. Henderson provides on-site support and project management to the Army's Office of Energy Initiatives (OEI) in the development of utility-scale, privately financed renewable energy projects. He assists the Army in all stages of development, including identifying and prioritizing opportunities, project validation, acquisition, implementation, and Operation and Maintenance (O&M).
Previously Mr. Henderson focused on sustainable building operations, integrated design and construction, and assessing the environmental, social, and economic consequences of design. Mr. Henderson also helped deploy and measure green strategies and practices in the design, construction and operation of federal facilities.
Before joining the Laboratory he worked as a Civil/Structural Engineer for an engineering and architecture firm, AECOM, contributing design concepts, 3D modeling, modification feasibility studies, and performing structural analysis for various projects.
Research Interests
Renewable energy
Sustainable design and operation
Providing technical assistance for integration strategies
Analyzing whole building performance
Examining new building trends for impacts of and compliance with building codes
Creating integrated assessment models for the building sector
Education and Credentials
B.S., Civil Engineering, University of Idaho - 2008
E.I.T Certification - 2008
LEED AP, USGBC Leadership in Energy & Environmental Design Accredited Professional
Project Management Professional (PMP)
Affiliations and Professional Service
ASCE Member – 2008 to Present
PNNL Publications
2016
Fowler K.M., J.W. Henderson, and S. Bunch. 2016. "FEDERAL SECTOR METERING AND ENERGY DATA MANAGEMENT." In Proceedings of the 34th Annual West Coast Energy Management Congress (EMC 2016), May 25-26, 2016, Seattle, Washington. Wanchai:Global Information Publisher. PNNL-SA-117420.
2015
Fowler K.M., A.H. Colotelo, J.L. Downs, K.D. Ham, J.W. Henderson, S.A. Montgomery, and C.R. Vernon, et al. 2015. Simplified Processing Method for Meter Data Analysis. PNNL-24331. Richland, WA: Pacific Northwest National Laboratory. Simplified Processing Method for Meter Data Analysis
Henderson J.W. 2015. De Minimis Thresholds for Federal Building Metering Appropriateness. PNNL-24175. Richland, WA: Pacific Northwest National Laboratory. De Minimis Thresholds for Federal Building Metering Appropriateness
Henderson J.W., and K.M. Fowler. 2015. Federal Metering Data Analysis Needs and Existing Tools. PNNL-24191. Richland, WA: Pacific Northwest National Laboratory. Federal Metering Data Analysis Needs and Existing Tools
2014
2013
2010