Steve Butterworth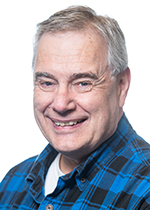 Pacific Northwest National Laboratory
PO Box 999
Richland, WA 99352
Send Email
Biography
Steve Butterworth, an Analyst 4, joined PNNL's Energy and Environmental Directorate in 2011. His primary skills include:
Stakeholder engagement and outreach, with the ability to bring clarity, or pose new perspectives and/or stakeholder partnerships, to challenges in the energy, environment and other fields,
Policy and program analysis, with the ability to quickly evaluate information from various sources and provide recommendations, or specific solutions, to promote program advancement,
Expert review, providing insight and support during the development of new proposals, DRAFT publications, reports, and presentations,
Strategic thinking, with a penchant for challenging the status quo, when appropriate, to achieve greater performance or accomplishments
People skills, with experience gained from extensive federal assignments, travels to all 50 states, work in both commercial and academic spheres, and with a generally positive approach, he is comfortable in one-on-one, small groups, and large audience settings,
Steve has extensive experience working with federal agencies and utilities on alternative financing programs across defense, homeland security, and land resource management agencies. His job functions have spanned program management (energy, facility, natural and cultural resources), communication, public affairs, legal (enforcement, prosecution, security and training), safety, and General Staff Officer (IMT-II) in the National Incident Management System. His 42 years in federal service, 10 years as an instructor at the University of Washington (Seattle), and 5 years in hotel management (Hilton) have been recognized with national and regional awards.
Research Interests
Utility Incentive Programs
Utility Energy Service Contracts
Federal Energy Management Programs
Sustainable Practices
Education and Credentials
M.S. Wildland Recreation, University of Washington
B.S. Forest Management, University of Washington
Law Enforcement Officer Combined Federal Law Enforcement Academy, Washington, D.C.
Incident Command System – Command and General Staff certification (IIO)